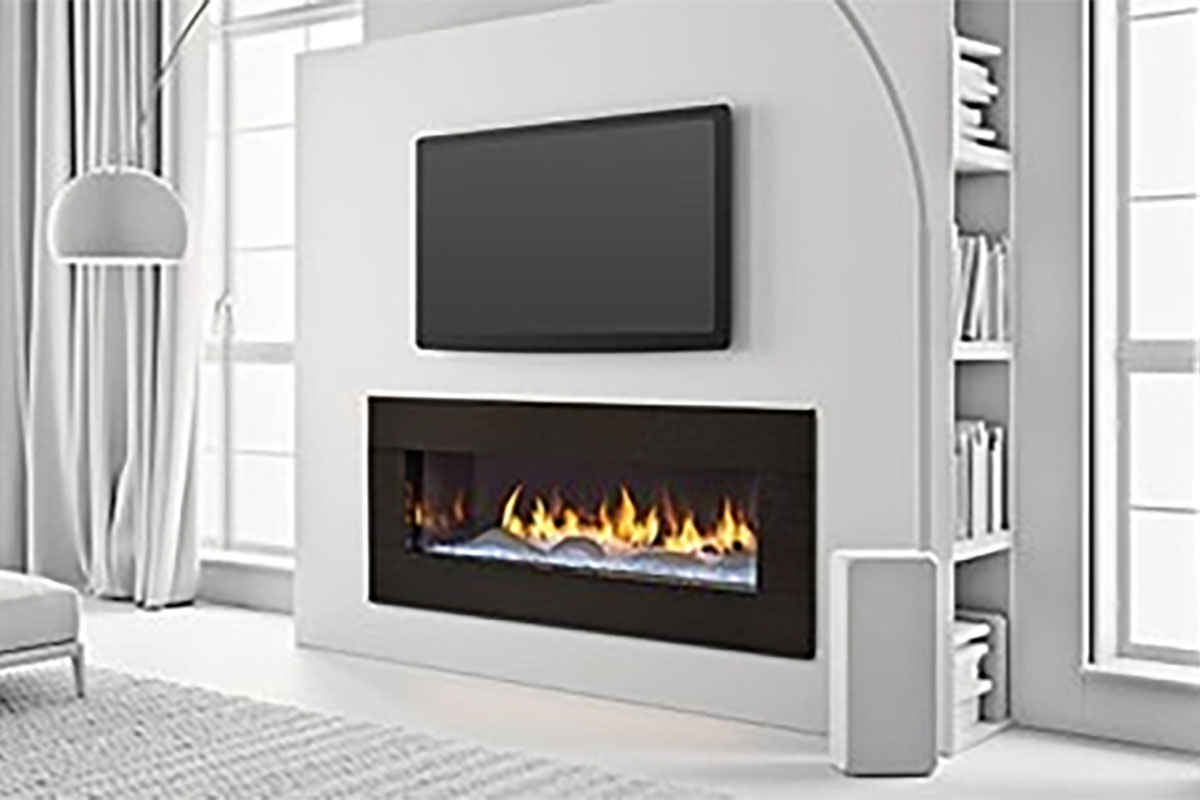 Technology. It is everywhere. We have smart phones, smart cars, and even smarter homes. Apps allow us to turn on lights, turn down the AC and even unlock the front door with just one click, or better yet, with the convenience of setting an alarm. Our in-home speakers "speak" to us, reply on command, play our music, and allow friends to virtually #gather. Indoors, outdoors, we enjoy the modern conveniences of innovation, and guess what? Fireplaces are no different.
New and emerging #technologies allow us to create warmth and subtle or spectacular sparkle in any room. As a DJ carefully creates the playlist for any event, we "dial in" the mood – with just the press of a button.
Warmth & Practicality
No need to sacrifice function for fashion or aesthetics for practicality. Rooms can be "lit"; a focal point customized by choosing a fireplace that offers heat adjustment & distribution technology such as Heat & Glo's PowerFlow™ Heat Management Technology. Hanging a television above the fireplace has been a "don't" of interior designers for many years, but we think this position proves to be the perfect viewing height.
In the past, intense heat flowing through the wall could cause a negative impact on electronics and artwork. But Heat & Glo's PowerFlow™ Heat Management Technology is changing the game, removing design limitations, and freeing up the space around your hearth.
Reclaim the space above your fireplace with Heat & Glo's exclusive PowerFlow™ Heat Management Technology. You can hang a TV or cherished piece of artwork above your fireplace – #lightitup with just the flip of a switch with no concern for items above and around!
Davinci Custom Fireplaces™ Safe Touch Glass™
DaVinci Custom Fireplaces™ has come up with their own patented technology.  It's all about heat distribution management.
We love this innovation by DaVinci.  It maintains extraordinarily comfortable surface temperatures, eliminating the need for a protective screen.  It ensures that the display is crystal clear. True Zero Clearance to building materials provides a cool exterior.This eliminates the need for expensive, non-combustible building materials.  It gives you the freedom to bring your finishes right up to the edge of the frameless glass, with any building material you desire. Safe Touch Glass™ reassures you that having a fireplace wherever you want one is no longer limited by the potential for harm.
Curious little ones? Rambunctious pets? Not an issue with DaVinci's Safe Touch Glass™ and best of all, it's a standard feature for all DaVinci Custom Fireplaces™ – the difference you can see and feel.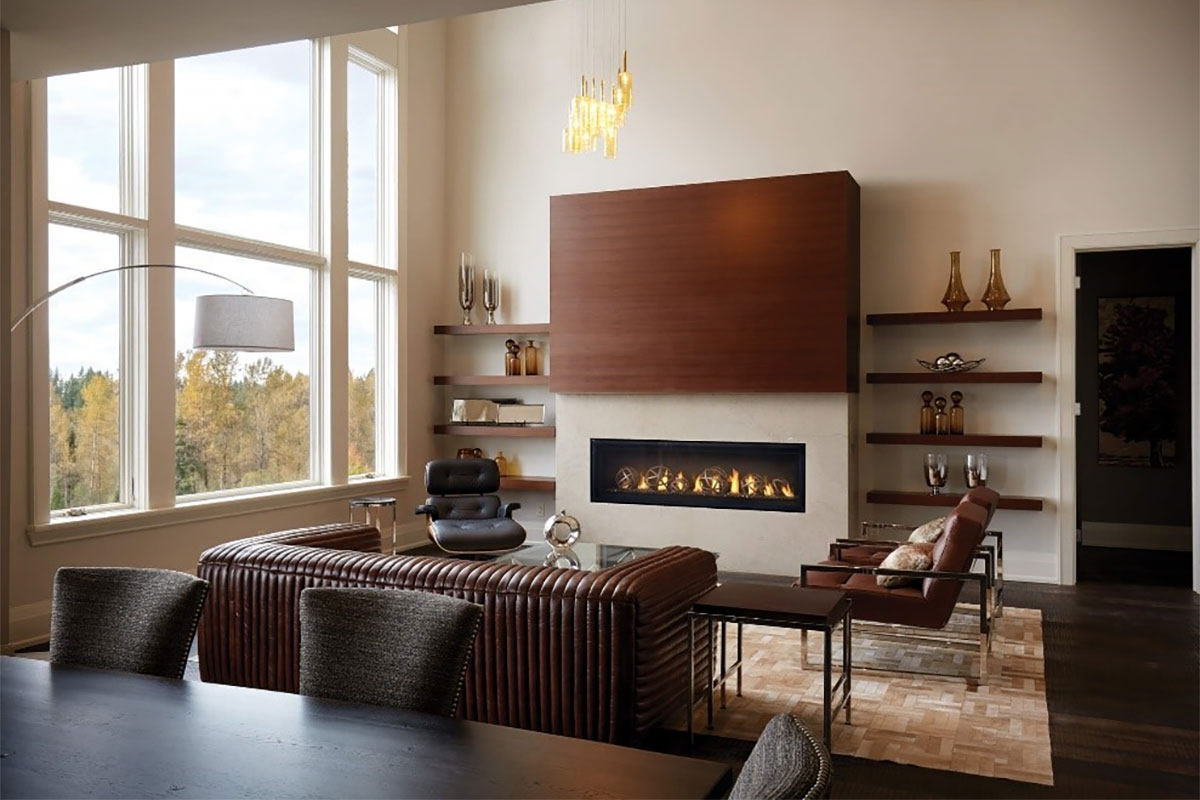 Napoleon Luxuria SeriesTM
Linear Gas with Glass Guard
Napoleon's Luxuria™ Series of Linear Gas Fireplaces requires no safety screen as well thanks to the Premium Glass Guard system, enhancing your view. You can choose a single-sided unit or maximize your enjoyment with a see-through firebox. This versatile series allows for installation of electronics or artwork directly above the unit.  Plus, combustible materials can be installed flush to the opening. With premium media options, this fireplace offers endless installation opportunities.
Choose slim and linear-shaped, large, small and/or traditional. Gas fireplaces are versatile, they can be installed nearly anywhere you desire. Gas fireplaces are efficient and safe to use, providing heat and light in the event of a power failure. Napoleon offers direct vent units that vent combustion gasses directly outside.  The vent-free units use the indoor air to fuel the combustion process and vent safely into the room.  These replace existing masonry fireplace openings called fireplace Inserts. Gas Fireplaces can have the look and feel of a real wood fire without any of the work or mess. They provide sparkle andss and offer unique ember beds filled with rocks or crystals.  We can meet your décor needs beautifully!
Which of these would you choose?  Interested in a quote?  Learn about these brands and more by visiting or calling either of our showrooms today!