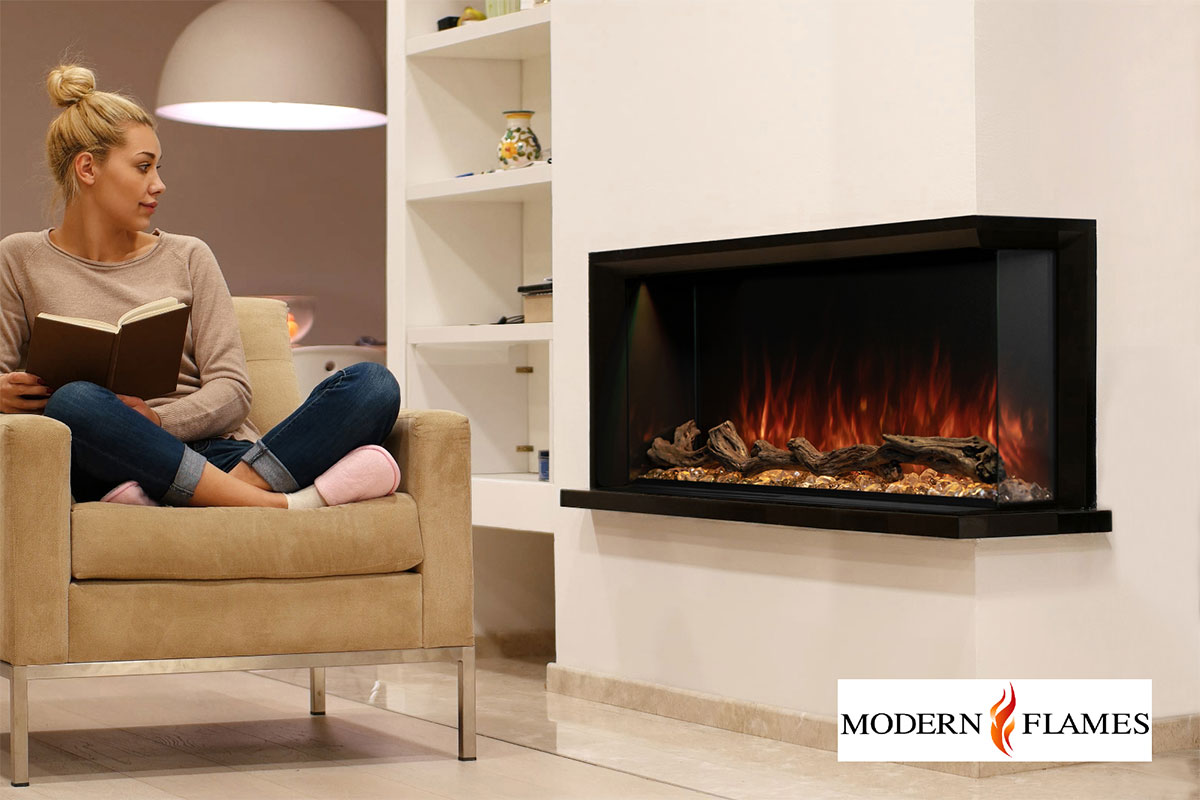 Three brands that will have you wanting #fire in every room!  Ever considered an electric fireplace?
Modern Flames
Introducing the new Landscape Pro MultiTM – the most versatile and customizable electric fireplace in Modern Flames extensive lineup of industry changing electric fireplaces.
What makes it UNIQUE?
Size & Orientation
Available in 44", 56", 68", 80"
Single sided
Left Corner
Right Corner
3-sided Bay
Lighting provides random, beautiful flame image with high intensity RGB flame options and active ember bed plus:
RGB Ember colors
RGB Downlighting
Individually controlled or synchronized timing
Full color spectrum in each light feature
What's your STYLE?
Choose clear acrylic stone media, black smoke crystals or a rustic hand-painted driftwood log set.
Why we LOVE it
With heat output of 10000 BTUs, a whisper quiet fan and high efficiency PTC Ceramic Heather, you will love the beauty and practicality of this one!
Dimplex
IgniteXL® by Dimplex stands apart as more lifelike and visually stunning than any other electric fireplace. With new, patented flame technology, IgniteXL® captures the charm and ambiance of a real fire.
What makes it UNIQUE?
Size & Heat Boost
Available in 50", 6o", 74", 100"
Quickly warms a room by delivery maximum heat output for a pre-determined amount of time.
Year-round comfort – enjoy this product with or without heat!
Choose from a variety of brilliant color themes or cycle through a range of colors using the prism mode, freezing on the hue of your choice.
What's your STYLE?
Diamond-like acrylic ice ember bed chunks sparkle and shine with reflected light. This custom-look, edge-to-edge glass, clean face design offers flawless panoramic views that marry well in any room.
Why we LOVE it
Edge-to-edge glass offers a flawless panoramic view of the dazzling flames from any angle. At only 5.5 inches deep, and with no chimney or gas line required, IgniteXL® is ideal for home or high-rise installations.
Napoleon
See the fireplace, not the frame with the Alluravision SeriesTM nearly frameless linear electric fireplaces by Napoleon. The fire is the focal point on this gorgeous product.
What makes it UNIQUE?
Size & Orientation
Available in 42", 50", 60", 74", 100"
Single sided
Lighting provides random, beautiful flame image with high intensity led lights with soft start and stop, a whisper quiet blower with boost function and warms up to 800 s.f. plus:
Fully recess or hang on the wall with built-in bracket
120V wall outlet or can be hardwired to 120V or 240V
Five flame speed options
Four flame color, brightness & 5 different flame speeds
Includes log media with glass embers and crystal media
What's your STYLE?
Does your design sensibility call for clear, crisp, contemporary style? The Alluravision SeriesTM defines bold simplicity – if there is such a thing!
Why we LOVE it!
Electric fireplaces are ideal for creating an instant upgrade to any room. Starting at just $1500, this product is a ready to spread warmth and comfort right out of the box – at a great price point too!
For a quote on any of these brands and to learn more, visit or call either of our showrooms today!