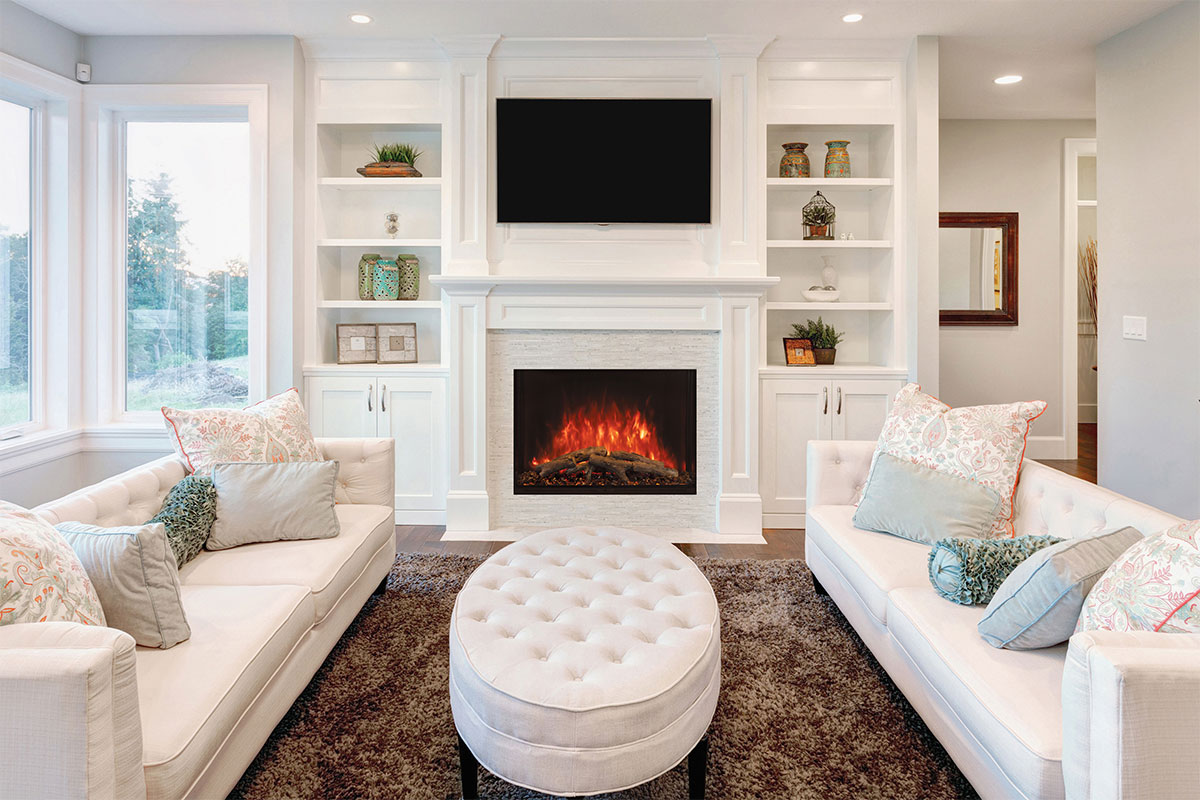 At Arizona Fireplaces we love getting a big impact with small improvements when it comes to your home. AS DIY home improvement enthusiasts, we've compiled a list of 5 things you can do now to rejuvenate your home for Spring.
Spring is here, a time of rejuvenation, cleaning, and enjoying the outdoors. With us all spending more time at home these days, have you been thinking about sprucing up your space? We sure have, and we're not just talking about cleaning and organizing.
Create a space where you and your family want to be.
That's our goal when it comes to a home, no matter the size, budget, or type of space. Take a look at the spaces where you and family spend the most time and see where you can inject some color or light. Brighten up a space with vivid color or bright white with accents, pillows, or maybe even some paint. And don't overlook your fireplace surround. A multitude of options are available for DIYers of all skill levels. From tile to stone to concrete, your options are endless and can transform your room for seasons to come.
Inject some life into existing furniture.
New to the eye doesn't have to be a new purchase. Do you have some furniture pieces with some wear or maybe a piece or two tucked away in your garage or storage? Consider giving it a face lift with a coat of paint. For dressers, chests of drawers, or cabinets upgrade the look with new knobs or refinish your existing one. And don't forget how recycling furniture can fulfill many different roles beyond what was intended. Get creative with your DIY eye and treat your home to something "new" for less.
Upgrade your dining options, indoors and out.
Memories from time spent around the dinner table are some of our fondest. Maximize your dining options in your home by thinking outside the box, all the way outside. With temperatures rising, grilling can become your go-to for dinners or outdoor gatherings. Whether you opt for charcoal or gas, portable or built in, brick oven or outdoor kitchen, we offer a wide selection of barbeque equipment and accessories that can take your outdoor grilling from good to five star.
Refresh your fire features with gas logs.
Arizona Weathered Oak Charred Log Set by Grand Canyon Gas Logs
Gas Logs are a great alternative to real fire, improving both safety and the aesthetic look of your fireplace or firepit. Wood burning stoves can be equipped with gas logs. Grand Canyon Gas Logs offers a wide array of gas log options to fit a variety of styles and budgets. Contrary to popular belief, you should never assume that your fireplace can burn gas logs. It is always important to do your research before making any purchase, especially one that warrants special attention. At Arizona Fireplaces we are happy to share our expertise and knowledge of gas log replacement and stove conversion to help you make the best decision for your home and lifestyle.
Expand into the outdoors.
Outdoor spaces in Arizona homes are special. During Spring, Arizonans get to take advantage of the perfect weather our state is known for. Just because you're outside your home's walls doesn't mean that gathering, relaxing, and connecting has to stop. Consider upgrading or adding a fire feature to your yard or patio to create a centralized space of comfort and relaxation. When designed with care and knowledge backed by 40 years of experience, your home's yard or patio can be the crown jewel of a home, a space where people gather, relax, cook, and connect. Arizona Fireplaces is proud to offer our clients the best selection of outdoor fire equipment from BBQs to fire features & fire tables to gather!
Making your home a home. We take pride in helping our customers meet this exact goal. Arizona Fireplaces can help find solutions for DIY fireplace enhancement and installs in both indoor and outdoor settings. As an industry leader and national distributor, we are happy to share our expertise and advice to meet your home's needs and budget. As you embark on your next home improvement project, we invite you to explore the latest in fireplaces and fire pits designed for Arizona outdoor and indoor living at Arizona Fireplaces.