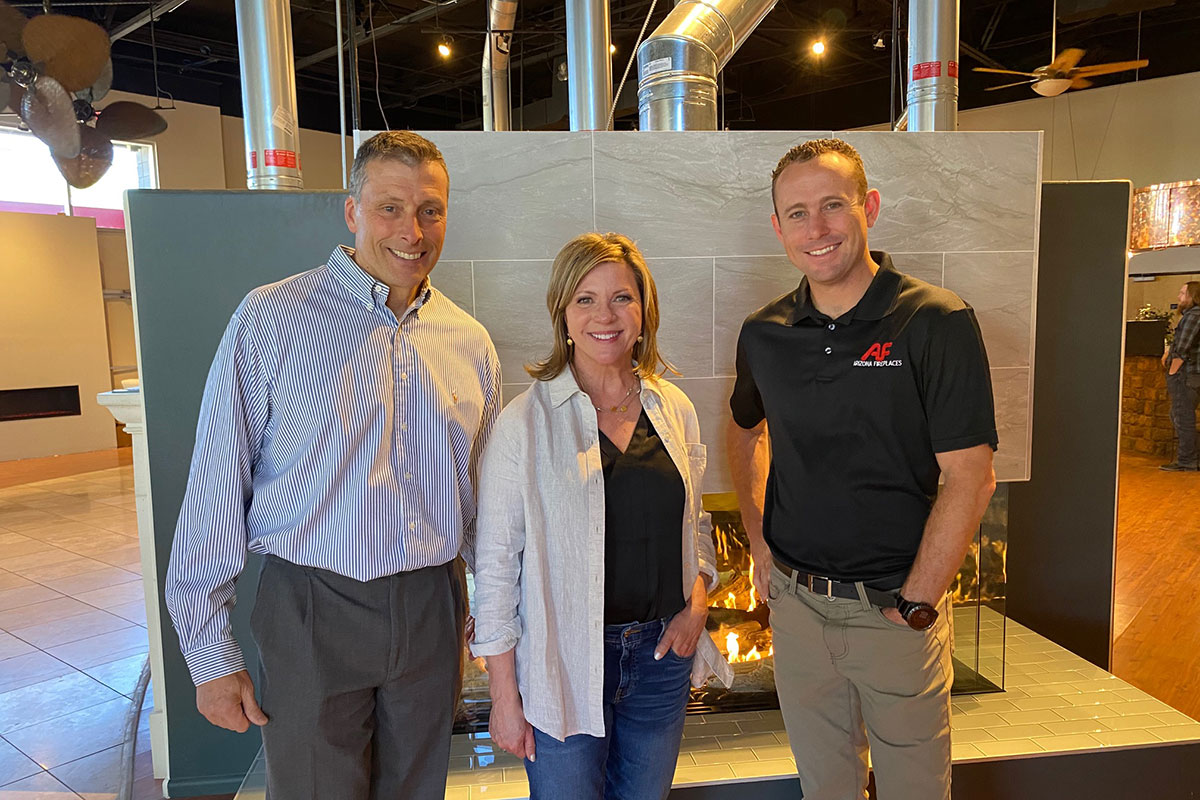 ASID Events
On Friday April 9th in partnership with the Arizona Society of Interior Designers, Arizona Fireplaces had the pleasure of hosting Donuts & Dialogue | Drive-Thru Series featuring Ross Morrison, VP-Marketing of Stellar Hearth Products, an industry leader in creativity, advanced technology and one of the most extensive lines of luxury fireplaces available for both indoor and outdoor hearth projects.
Interior designers love the versatility – whether you are adding a grand single sided fireplace to your room or using a multi-sided fireplace as a room divider to help break up an open concept layout, clients choose from seven different design configurations to identify the perfect fireplace for any living space. Beautiful fires demand to be seen.  Stellar's Galaxy Series is renowned for providing taller viewing areas and more BTU's of flame than any other in its class.
Stellar Hearth
Stellar Hearth Products marries innovation and design.  Ross Morrison is the visionary behind the operation. Hailing from Minneapolis, MN, Ross' sales career in the fireplace industry began in 1990.  His in-depth knowledge, experience and creative mind took him straight to marketing with a position shift to Marketing & Product Development for a competing brand.  He served as CMO for eight years before conceptualizing the Stellar Hearth brand in 2009, subsequently developing a presence in the gas fireplace market and serving a premium, affluent clientele.
Stellar Hearth grew quickly and as a result, was acquired by Hearth & Home Technologies. Hearth & Home Technologies (HHT) is an operating division of HNI Corporation.  The company delivers long-term value to its shareholders.  Additionally, HNI aims to exceed customer expectations and be responsible corporate citizen.
In conclusion, the company continues to innovate and manufacture for the fireplace industry.  They have earned top recognition for their award-winning indoor and outdoor hearth products alike.
The Galaxy
Experience the Stellar Galaxy, up close and personal only at Arizona Fireplaces' showrooms. Two convenient locations serve designers, architects, builders, and featuring a knowledgeable sales team and customer service division that is second to none!
Keith Richardson is President of both Arizona Fireplaces and AF Distributors.  The companies are industry leaders in retail and 2-step distribution centers that serve the southwest.  These two companies represent the largest combined part of the family business. The other related companies include AF Steel (fabricators and installers of structural steel in metro Phoenix for large commercial and residential builders), and RPG Brands.